Photo Hack Day NYC 2011 And My Hack: AllPaper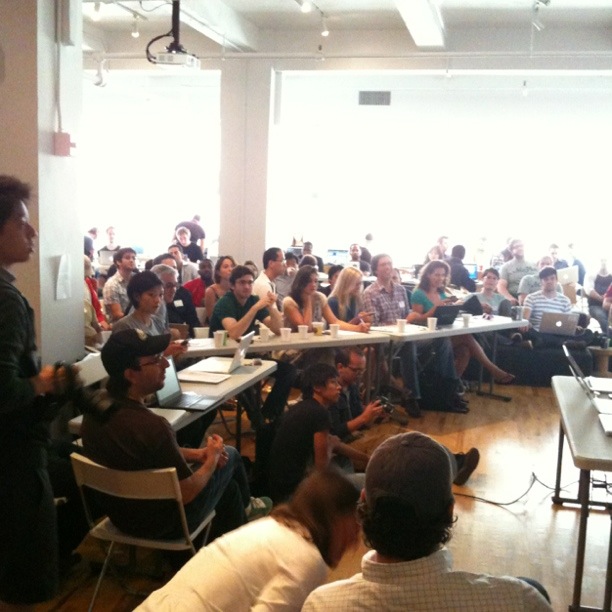 This past weekend I participated in my first NYC hackathon. The New York Hackathon is a mythical beast. They've been written about quite extensively, but you really need to just show up to one to know what it's all about.
This particular hackathon (Photo Hack Day) was organized by Aviary, with sponsorships by Bing, Pepsi, PBR and others. There was plenty of food so that hackers didn't have an excuse to leave, ever. I still ended up going home to get some sleep on Saturday night before the demo on Sunday.
I really think I picked a good first hackathon to attend, as the prizes were pretty insane. First place got $5000 and the cash prizes for second and third place were quite good as well. On top of those, there were prizes for best use of certain APIs. Face.com's API stood out as a popular one; 500px had quite a few users as well.
I ended up working on a project I had wanted to build for a while: a custom collage creator for your iPhone wallpaper. I called it "AllPaper." It seemed pretty catchy and I don't think there's a product with that name yet. I integrated Instagram into it first, then threw support for 500px, PicPlz and Facebook before calling it a hack. I also integrated the Sincerely Ship Library which lets you turn your collage into a real postcard. I'm really looking forward to trying that out!
Overall I'm pretty happy with how the hack turned out. I can probably turn it into a real app fairly easily with some tweaking here and there. As this was my first hackathon, I noticed a few interesting things about the top hacks. There was some grumbling about how many of them seemed "hardcoded." I wonder if presentation really counts more than actual hack-worthiness these days. You could spend your time actually coding something, or you could create the facade of something that looks even better, but is not really that worthy of being called a "hack." It seems that the presentation wins over the true hack-worthiness, as one of the cooler ones, a jailbroken iPhone that took MMS messages and uploaded them to a web service, won nothing.
Coming away empty-handed was a little damaging to the ego, especially after winning something in my last hackathon, but my ego's not too bruised. I hate to sound like I'm complaining! Almost all of the presentations were well done, and the winners certainly did deserve to win. I'm hoping to participate in something similar again soon, as the atmosphere was really enjoyable.