The Bird and The Bee – My New Favorite Band!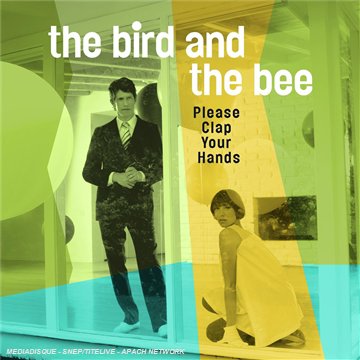 I have been getting really into this band called "The Bird and The Bee." They are composed of Inara George and Greg Kurstin. I'm not sure which one is The Bird and which one is The Bee. Or if it's just a band name. I bet they get asked that a lot. I'm guessing that Inara is the bee, because almost all bees (the worker ones) are female. Anyway, what was I writing about?
My music-listening tendencies have been pretty unfocused recently. I just kinda try out whatever music I hear about. The last artist I sorta latched onto was Ingrid Michaelson after seeing her in concert in Ann Arbor back in 2007. I listened to some Andrew Bird but didn't get super into him or anything. The Bird and The Bee is the first band whose albums I am listening to over and over again, and getting really psyched about. I even bought their single to hear some new songs. How crazy is that!?
I will now recount how I first became acquainted with this band. I am not ashamed to admit this is a very "Stuff White People Like" story. I was at The Gap, trying on some clothes in the fitting room. Then I heard this song that sounded pretty neat. So I used Shazam to figure out what it was. It turns out it was "You're a Cad." This happened on November 29th, 2009 at exactly 1:51pm Pacific Time. Thanks for the extreme data accuracy, Shazam!
Anyway, I made a mental note to check out the band, after purchasing a cheap sweater. I actually don't remember if I bought a sweater, but details make a story more interesting. I put a few of their albums on hold at the Seattle Public Library and loaded them onto my iPhone to listen to on my commute to work. The rest is history.
The Bird and The Bee is probably so interesting to me because they have such a unique sound. Their website describes them as a mix of "Brazilian Tropicalia, '60s psychedelic pop, and sparse electronic beats." Inara has a wispy yet super-focused voice that really adds a lot to the complex arrangements.
To say that their "sound" truly defines them would be a disservice, though. In addition to a neat sound, their songs stand out because they're really well composed. I think a lot of current alternative music focuses on the ambience, and not a whole lot on a coherent melody. The Bird and The Bee's music not only contains some neat melodies, they also do some fun things like layering melodies on top of each other, making canon-ish things happen. Their songs actually start somewhere and build up to something. Maybe I'm just being a fanboy, but I really appreciate the songwriting skills of the duo.
At this point in the post, I should really just let you listen to their music. Here's one of their songs along with a music video: Polite Dance Song. The concept of the song is wacky and the video fits it quite well.
[flv:/blog/video/politedancesong.mp4 480 360]
They also have an awesome cover of How Deep is Your Love on the single that I got. Oh, and a wacky song about a weeaboo's love for Japan.
The Bird and The Bee have a new album coming out, apparently a tribute album to Hall and Oates! I should probably just pre-order this as I've liked everything else they've put out so far.