SOCHI Google Android Design Challenge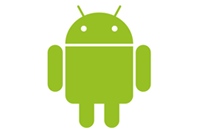 So the SOCHI group at Michigan had a fun Google Android Design Challenge thingy last week. SOCHI is the student organization for computer-human interaction. I guess I should've capitalized all those words… Oh, and Android is the OHA's new mobile development platform.
Basically, we all had a brainstorming session with ideas for fun new mobile apps. There were a lot of cool ideas thrown out. Afterwards, we all got into smaller groups and developed some app ideas. Our group came up with this sensor that tells you if you're in close proximity to someone really often. I believe there was some study done where people wore these RFID things and it turned out that they were in close proximity to complete strangers very often (like at the bus stop or grocery store or something). So the app could say, "hey, you're together often, maybe you should be friends" or something.
The coolest part of the meetup was that it was partly sponsored by Google, which means there was free pizza, drinks, and most importantly, Google cups. They were the same as that one red Google cup I got as my consolation prize (the grand prize being a job at Google). I picked up one of each color (blue, green, yellow and red) since I didn't know if they'd go to waste afterwards. I guess SOCHI just sorta stows them away until another Google sponsored event. Oops!
Writing this post is also a way for me to procrastinate on my business plan which is due tomorrow for my entrepreneur class. The business? A software development company specializing in mobile applications on the Android platform. Which it wasn't at the beginning of the semester, but that's a whole other story…