Ingrid Michaelson in Ann Arbor! (12/12/07)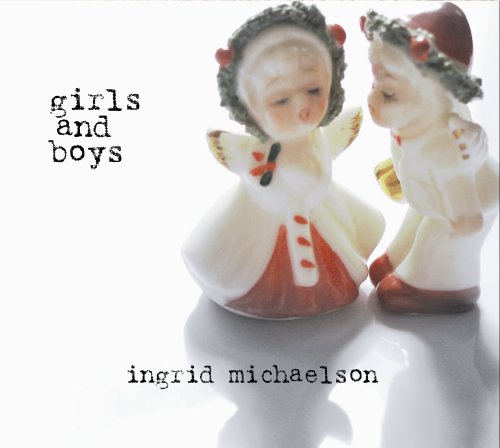 So my friend Krystle made it clear on Monday that she wanted to see someone named Ingrid Michaelson in concert on Wednesday. I had no idea who this person was, so I checked out her website and listened to a few songs. Apparently she's had quite a few songs appear in Grey's Anatomy and in TV commercials like Old Navy.
I thought she sounded pretty good, but what about live!? Now, a lot of times, an artist will sound good on a CD merely by virtue of having a good sound guy to tweak the pitches to perfection. But after seeing a clip of her sing the Old Navy commercial song live, I was convinced. She sounded even better live!
So three of us went to the concert on Wednesday, almost freezing to death in line due to a sloth-like ticket ripper dude at The Blind Pig. This guy was seriously doing like, one ticket a minute. It's a good thing Krystle got the tickets early, because they apparently sold out while we were in line.
The set started out with some stuff by Allie Moss, who also serves as Ingrid's backup guitar and vocals. It's a very economic setup. Allie was actually quite good. But everyone was kind of ready to hear Ingrid after a few songs. And once Ingrid started singing, it was apparent why Allie is the sideman and Ingrid is the headliner. Her voice is freakin' awesome! Basically, Ingrid can do pretty much whatever she wants vocally as far as range and other weird things that people learn in voice training.
While some of her songs are a bit simplistic and "funky" in terms of arrangement, I think her voice really makes up for her lack of anything else. Ooh, strange cognitive dissonance: Right before she came on, the DJ dude or whoever asked everyone to stop smoking because she's sensitive. But the lyric in her song says "If you need a light, I'll find a match!" I know it's just a lyric, but hey, come on!
Ummm what else? The Old Navy song (The Way I Am) and the Breakable song were really good. I mean, mostly everything was good. Also, it felt like VH1 storytellers because we'd get the story behind a bunch of songs, which works well when you don't have a bunch of songs to fill up a set. Ingrid had a good stage presence, seeming very humble. Though perhaps it was well rehearsed humbleness!!! I don't really doubt her humbleness though, she seemed really nice. Like she'd get happy when people knew what song she was playing. Also, she told a story about how she was doing a promo event at Borders and said "Thanks to Barnes and Noble for having me!" Oh, and she pointed out that there's a live version of a song on her Myspace page where, at the end, she says "thanksss~~~" and it sounds really funny.
There were also a bunch of covers thrown in for good measure. She played Mele Kalikimaka, a naughty Christmas song called "Trim Your Tree," (in fact, here it is!) and "Can't Help Falling in Love." I probably sound like I'm enamored now, but seriously, anything her voice touches turns to GOLD!
So yeah, it was a good show, and it was cool to see her before she eventually becomes stinkin' famous. Hopefully she'll come around the Ann Arbor area again some time soon.