Facebook Marketplace – With Connections!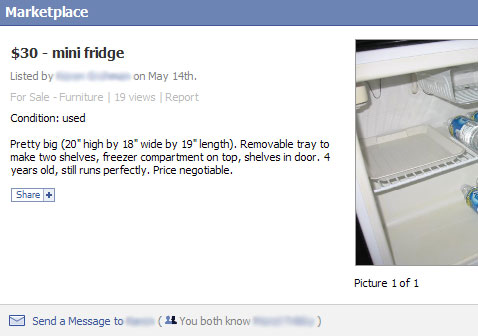 So the Facebook Marketplace is like this mini craigslist for the various networks in Facebook. This is pretty neat. Not because you can sell stuff on Facebook, necessarily, but because it incorporates the existing data of Facebook as well.
When you look at an item, you get information on the item and seller, and also information regarding your "relationship" with the seller. So if the seller is your friend, Facebook tells you. Well, you should already know who your friends are… But if this person is a friend of a friend, Facebook tells you that as well!
This is really cool (and something craigslist lacks) because you automatically have a way to determine if the seller is legit, without using lame feedback methods like Ebay does. At least, hypothetically, your friends should know legit people…
It'll be interesting to see how successful the marketplace will be. While it may be fun getting random stuff from strangers with craigslist, it'd seem like a better idea to actually know who that couch belonged to before using it…
Also, I think it's hilarious that Facebook decided to release this like a day after Oodle launched a sponsored group featuring its own classified ads. PWNED!