New Threadless T-Shirts That Don't Suck!
Recently, there's been quite a dearth of good threadless shirts. Like, seriously, they're all so pretentious and "cool." Well, this week brings shirts that I might actually buy. If only there were a $10 sale…
</p>
Honk if you are about to run me over.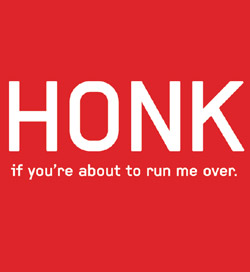 </a>So this one's just a textual tee. But it's clever! And I like clever t-shirts! Oh, threadless, way to mock all of those people who misuse the "Honk if you're X" snowclone.
Though it would be ironic if I wore this shirt and was actually run over, I think the odds of that happening are fairly slim. Since it's only text, this shirt is $12 instead of $15. Does that mean it'll be $7 during a $10 sale? Hmmm…
</p>
Adultery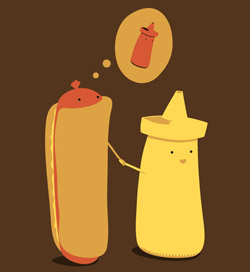 </a>Aww, threadless can even make a serious issue like adultery seem like cute fun. Question: Is the hot dog currently with the mustard, and thinking of cheating with the ketchup? Or is the hot dog cheating on the ketchup with mustard, and regretting the decision?
</p>
Ambition Killed The Cat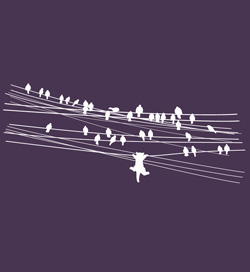 </a>While it's sad to learn that the cat perishes in this shirt, it's still pretty damn cute. This is a reprint, so I guess tons of people bought it and wanted more. Good job for bringing it back! Now go vote for this shirt to be reprinted! Do it!
Yep, so a few good shirts from threadless.com this week. Not that they're good enough for me to buy for full price. If there was a $10 sale on these, I'd be all over em, though.