Back To School Threadless $10 Sale!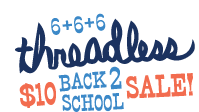 Whoa, so like, right after I say I want a threadless.com $10 sale they make one! And this time, they released 6 shirts each on Monday, Tuesday, and Today.
There was a cool dinosaur shirt on Monday that I wanted, but it's sold out already. That was way fast. I was hoping there'd be some good ones later on and I'd buy em all in one order. That didn't really work out.
Right now, the only shirts I'd buy are probably the Ctrl+Z reprint (since my other one(s) are already fading) and the Ambition Killed the Cat one. It's so cute! Ask me how I became a Pirate is also kind of cool.
Afternoon Delight is surprisingly still in stock. I'd buy it, but I'm not too sure the world is ready for me to wear a shirt with two unicorns copulating on it.
I need to buff up my Fall wardrobe, so I guess it's a good excuse as any to buy a bunch of new t-shirts! Oh, the Sale ends Monday(8/21) morning, so hurry up and buy some shirts!