Get A Customized Message From Samuel L Jackson! For Snakes on a Plane!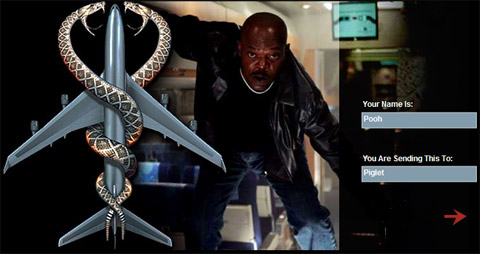 I saw this on anandtech, and I'm pretty sure it'll be everywhere soon. It's a promotional thing for Snakes on a Plane. You give it some information and Samuel L. Jackson can either call or email a friend with a message saying that they have to watch Snakes on a Plane. It's pretty entertaining hearing SLJ go insane about a movie starring himself.
Here's one that I made using a fictional "Samuel" and his copilot "Johnny." [audio:Snakes on a Plane.mp3]
It actually sounds pretty good for being one of those cut and paste customized messages. Mr. Jackson is very convincing, and I'm kinda scared that he'll kill me if I don't see Snakes on a Plane. This is pure genius viral marketing, right here. The only complaint I have is that SLJ doesn't know how to say a lot of names. Including "Hung." Oh, I guess it would've been cool if he had dropped the F-bomb a few times, or even if he just said "ass" instead of "butt."
Oh, if you didn't know, Snakes on a Plane is a movie. About snakes. On a plane. And Samuel L. Jackson's in it. It's already gained cult status for having a cheesy plot. I read somewhere that Samuel L. Jackson only agreed to do the movie because of the title. Now that's what I call quality cinema.