SXSW 2010: My Panel Moderator Experience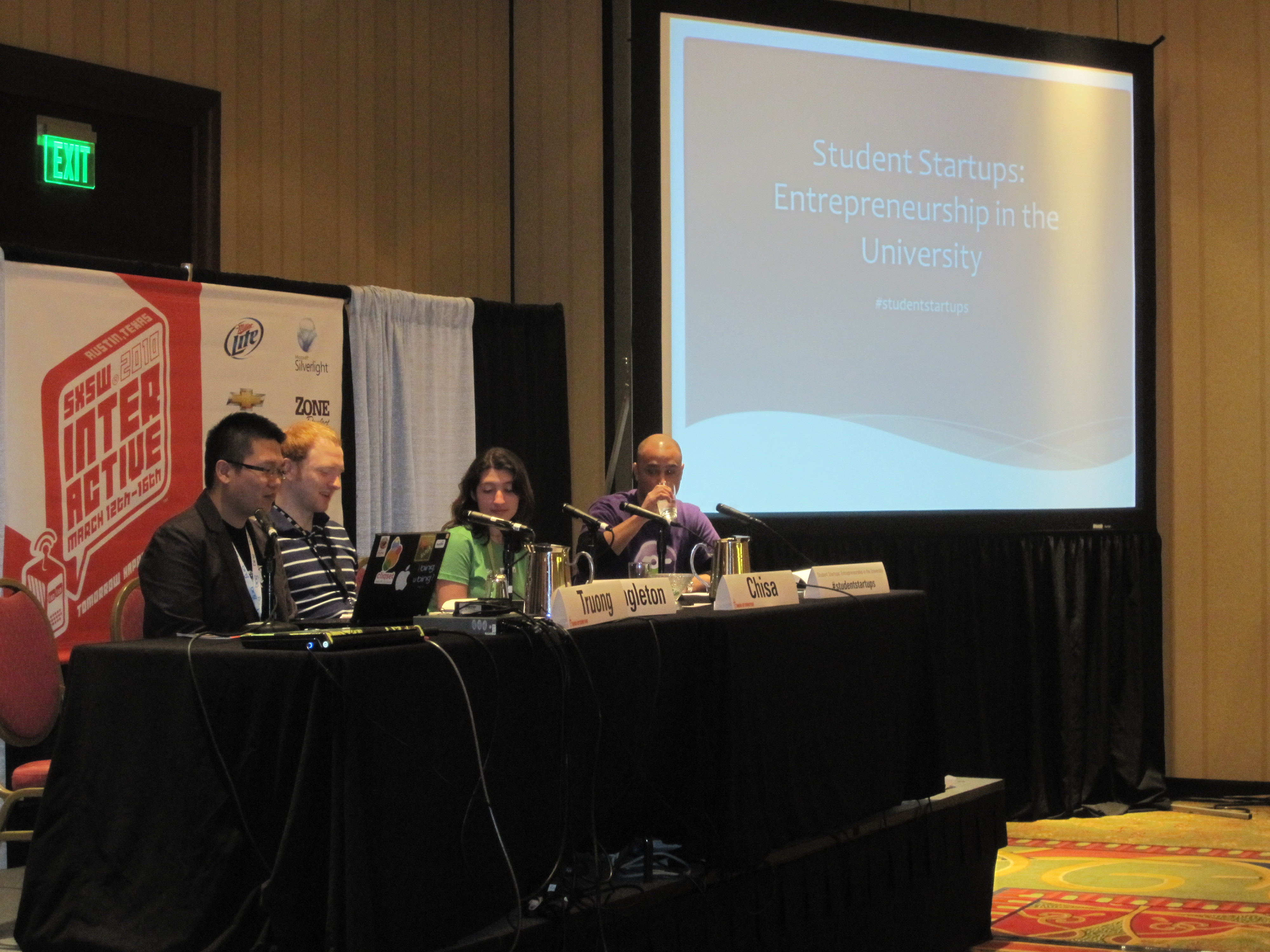 I got back from SXSW 2010 a few days ago, and I thought I would write a post about what it was like to moderate a panel while it's fresh in my mind. As you may know, my panel submission, "Student Startups: Entrepreneurship in the University" was selected to be a real panel at SXSW 2010! From the time that I knew it was accepted, I sprung into action and got my panelists together. Ellen from Alight Learning, Ben from Olark (formerly Hab.la) and Rishi from Underground Printing.
While I did my research beforehand (I was a student entrepreneur myself, to begin with), I felt the need to cram some preparation a few days before the panel, too. I guess I should have gotten everything ready before the conference started, but I also wanted to get proper feedback from my panelists.
One way I prepared to moderate was by reading a few blog posts on the subject that were linked to from the Speaker FAQ. Most agree that one should not over-prepare the panelists. You want the discussion to happen during the panel itself and not before. In the hour before the panel, inside the green room, I had to sort of referee the panelists to avoid discussing too much. Most also agree that the moderator needs to do the most homework. I had to come up with the focus of my panel, questions to ask to reach that focus, and I had to be prepared to follow up with more questions depending on where the conversation went (which included asking questions to get the discussion back on track if it was going off on a tangent).
At first the panel was going to be about details: where to get money, what kind of corporate structure to use, etc. When I started thinking about the potential panel attendee, I realized that these questions would probably be really boring and unnecessary. I tried to frame my panel from the viewpoint of a college undergrad who just wants to get something started. I hoped that by the end of the panel, at least one person in the room would decide to give startups a try, or at least be excited enough by the idea to do more research into it.
My biggest worries were that no one would come, or that too many people would come. I also worried that people would be mean on the backchannel (as I have witnessed during other panels). I worried that I would not have enough questions to ask and that there would be a bunch of dead silence. Luckily, none of these things happened. The audience was a good size, I treated the audience with respect from the beginning and asked them to do the same on our hashtag, and my panelists were really interesting and led me to ask other followup questions. I don't think there was much filler content at all.
Probably the only truly stressful part of the process was when Rishi called me the day before the panel and told me he couldn't make it, by no fault of his own. I had to find a replacement panelist within less than 24 hours! Luckily, I am an entrepreneur at heart and rose to the challenge. I went to the trade show floor and started asking the startup-looking companies if their founder was there, and if so, if he/she had started a company while in school. I got incredibly lucky the first time I asked, at Tungle.me's booth. I ended up meeting Marc Gingras, a really awesome guy who ended up working out perfectly. Marc rounded out the panel as the guy who started a company during the dotcom boom. He also has experience being a VC and doing other startups after his first. I really can't thank Marc enough for spending his time sitting on my panel and helping it become a great success.
My basic strategy during the panel was to break the ice by asking the audience to participate a bit first. I stole this from the App-Vertising panel I saw a few days before. I asked who in the audience were students, investors, entrepreneurs or educators. Next, I had my panel introduce themselves and then I introduced myself. I started with an easy question: "I am a student who wants to get into startups, what should I do?" From there I listened to the panelists and tried to anticipate where the discussion was heading. I had a few points I wanted to hit, so if I heard something that related to another topic, I segued into it. For example, I might've said "Ben, you mentioned finding your co-founders at a student group, did anyone else have a similar experience? If not, where did you find your co-founders?"
The backchannel on Twitter also provided a good source of questions. I'm really glad that people asked them because it kept the conversation relevant to what people wanted to know and it gave me a chance to save my questions for a more relevant time to ask them.
I haven't gotten the official feedback on the panel yet, but I think that it was overall a success. Very few people left in the during the panel and many people were nice enough to come up and talk to me and the panelists afterward. I wish I could have talked to every single person to see if the panel was helpful, but I think they had to run to the keynote right after (and so did we)! I really hope that the panel inspired some people to take a chance and become an entrepreneur. I think that if one person became more inspired after hearing the panel, our mission was definitely accomplished.
While the process was a bit stressful and required a fair amount of work, I'd love to either moderate or participate in a panel again, someday. I've got to start thinking of panel ideas for SXSW 2011!
[Photo credit: Chris Norred]