Microsoft Cutting Back on Live Labs!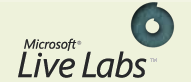 I just read some bad news that Microsoft is cutting back on its Live Labs group due to the "economy."
Microsoft spokeswoman Stacy Drake McCredy said the economy had forced the company to rethink the group's mission. The death of Live Labs as it has existed, combined with Google's decision to cut some of its more experimental products, raises the question of whether these kind of futuristic initiatives are falling out of fashion among leading internet companies, or are just a victim of this recession.
This saddens me because I got really excited after reading an article in Fast Company about Gary Flake's Live Labs and how innovative it was going to be. It seemed like a step in the right direction for a company that has a reputation for being boring (see John Hodgman in the Apple commercials).
Microsoft has a ton of money. They should be spending it on research and development. The article mentions that Google is also cutting back on spending on 20% projects and killing off many of its labs projects. This is a situation where Microsoft shouldn't be following Google's lead. Instead of having a knee jerk reaction to try and save more money, they should be willing to take at least a few risks with some opportunity for a high return on investment. I'm really sick of seeing companies rationalize stupid behavior by invoking the "economy" as the reason.
Perhaps, as the actual Live Labs Blog indicates, this is a move to focus the projects rather than spread themselves too thin. I'm not quite sure I buy this explanation, even as I notice that many Microsoft Live products seem under-promoted and downright bad. Live Mesh stinks compared to Dropbox, a competing startup. Inexplicably, Live Mesh does not share its storage capacity with another Live product, Sky Drive. Why one of these services hasn't made the other obsolete is completely beyond me. Bad management? Bad communication? Something else? All of the above?
It's possible to focus on products and retain people to work on them. I was really excited about the potential for Live Labs. Now, it looks like they've been neutered and will be working on search. Yes, search needs work, but why sacrifice Live Labs for it? Hopefully there will still be a place in Microsoft where people can freely innovate and not worry about just the bottom line…