Wii Play for Nintendo Wii – Review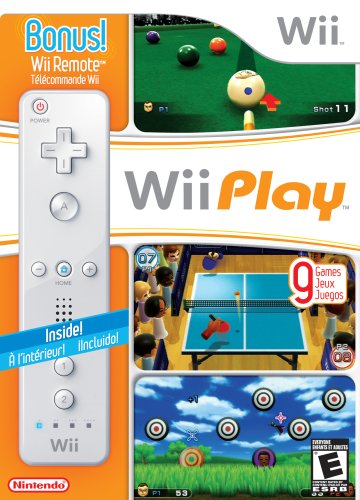 I got Wii Play from Amazon.com yesterday. The main selling point is that it comes with a wiimote and costs $50, so the game itself is worth $10. It comes with a bunch of minigames, much like Wii Sports, but they're not all sports.
Out of the nine, I'd say 3 or 4 are actually fun to play.
The Shooting Range game is not Duck Hunt, which makes me sad. Basically you just shoot stuff. Sometimes the Duck Hunt ducks will fly by and you can shoot them, but otherwise you just hit targets.
Find Mii is lame, unless you enjoy finding people in crowds. Table Tennis is really weak, because you can only control the horizontal action of the paddle. Tennis in Wii Sports is about 100 times better, and it comes with the Wii when you buy it! Pose Mii is also pretty boring.
Laser Hockey is actually very fun. The graphics are cool, and who doesn't like air hockey? I need to get a friend to play this one with me, since the CPU is kind of dumb. Billiards is good too. It's not quite ready to be its own game, but I enjoyed it (and I actually played it more than once).
Fishing is worthless. This looks like a tech demo. An unfun tech demo. Charge is kind of okay, and very surreal. I like how it uses the wiimote, at least. Tanks is also very fun with the nunchuck. I imagine getting 4 players would make this very, very fun.
In the end, if you're looking to get an extra wiimote anyway, then Wii Play isn't a bad buy. If you already have enough controllers, I don't think it's worth $50 for the game. There's some good games, and there's some not so good games. I personally think Wii Sports is more fun. Laser Hockey might be worth $10 by itself though.