Family Feud – Starring J. Peterman!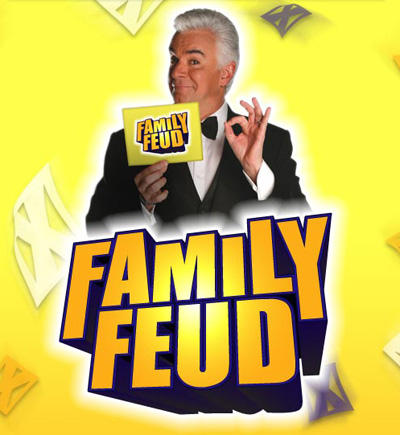 So lately, I've been watching Family Feud on TV. It's only because all the other shows that are on at that time are either soap operas, or Anna Nicole Smith documentary shows. And by that, I mean gossip shows that only talk about Anna Nicole Smith.
For some reason, I thought that Louie Anderson was still hosting Family Feud. He's kind of depressing and scary, so that's why I have a bad image of Family Feud. Well, they finally kicked out Louie Anderson (probably a long time ago) and now John O' Hurley is hosting! Who is John O' Hurley, you ask? I dunno, but he played J. Peterman on Seinfeld!
It's kind of weird seeing a character actor like him hosting Family Feud. Like there was a contestant named "Elaine" and when he said "come up, Elaine" I had weird Seinfeld flashbacks! He even said it in J. Peterman's voice! I guess technically it's his actual voice, but still.
Oh, and speaking of Family Feud, I really hate how they show the answers at the end of each round. Like they have the audience read them to us slowly as if we're blabbering, illiterate idiots. I suppose most people who watch Family Feud are, though. (Not me, of course)
Also, where do they find these families? Can people be so out of touch with reality that they think funerals are a good time to have a family portrait taken? Or that Wal-Marts exist in malls!? Who are these people!?