Google Calendar Released Tonight!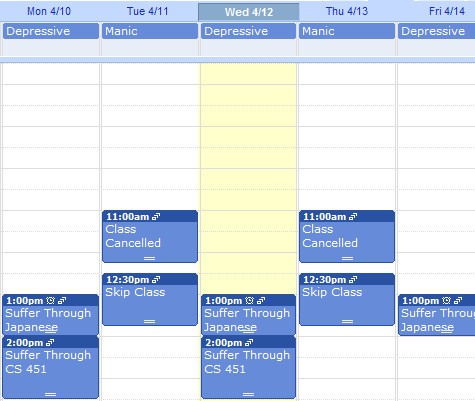 Google Calendar has just been released, and I tried it out a bit. It's pretty easy to input appointments, and it works a lot like Microsoft Outlook's calendar. I still haven't found an import option, which would have been nice. You can export the calendar in the iCal format, but when I tried reimporting to Outlook, it didn't work…
The main difference is that with Google Calendar, you're able to share your calendar with others. You can also see events that are either public, or events that are located in your friends' calendars. Pretty cool concept, though I haven't tried that part out (it was just released tonight, remember!?).
Although the interface is nice and easy to use, I don't know if I'd go for this instead of the current calendar system I'm using. Basically, I use the Outlook calendar as my main, and sync my watch, pda, and phone to it. Google Calendar seems okay, but I'd like to have my calendar even when I'm not online. Until I can sync to it, I probably won't end up using Google Calendar as my main schedule organizer.