I'm Back from the Mountain West Basketball Tournament!
Due to unforeseen circumstances (our teams losing), the band has returned a bit earlier than expected. Overall, the basketball tournament was fairly disappointing, if only because of our high expectations for our teams. Everyone expected the women to advance through at least the first round, so when they didn't, it was really a shock! On the upside, I found myself in one of the basketball action pictures! Sure, I'm small and blurry, but I won't complain!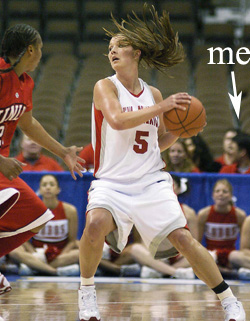 The picture also features #5 Abbie Letz, my favorite basketball player ever! Cool, huh? And before you point out that I wasn't paying attention to the game, I totally was! I think someone must have been talking to me or something.
Anyhow, I still have confidence that our women's team will be making an NCAA appearance (knock on wood), so this is by no means the end of the season. Let's go Letz, and Go Lobos!