Novint Falcon: Haptic Device Test Drive!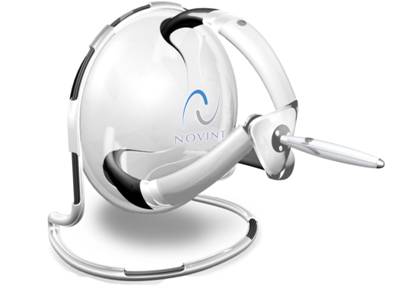 Today in my Computer Game Development class, someone from Novint (a local company specializing in haptic devices) showed a demo of the Novint Falcon. What's a haptic device? It's sort of like a game controller that can provide feedback in all directions. There were some texture demos, and a few games like launch the duck, where you grab a duck in a slingshot, pull it back, and let go.
The cool thing is you can feel opposing force when you pull the duck back. It doesn't feel quite perfect yet, but I believe it's still in development. It was still really fun moving this device around (the one we used didn't have a pen, it was more like a door knob), and feeling it respond.
I have a feeling that this device will end up being a novelty, unless it sees huge support from every developer in the world. Sure, it can be used for other stuff like medical simulations, but in the field of video games, I'm not too sure it'll take off. Here's the official company line:
The Novint Falcon, which is designed to retail for under $100, is the only consumer device to provide three-dimensional, high fidelity force feedback. Unlike any consumer force feedback product on the market, the Novint Falcon enables users to move right and left, forward and backwards, like they do with other devices, plus up and down. Users can now experience a full range of realistic touch sensations including shape, texture, weight and dynamics. The Novint Falcon connects to a PC through a USB port and its footprint is approximately 9"x 9", comparable to a mousepad and most joysticks or peripherals.