Fun Trolling Facebook Polls (For Science (Actually Lulz)!)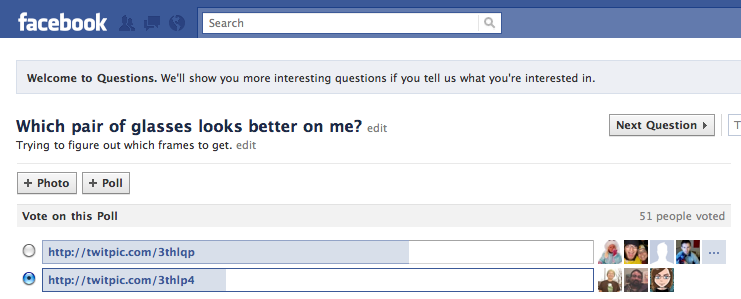 I saw a Facebook Poll late last night that a friend had voted on. The question was something like "Which pair of shoes should I get?" The poll had twitpic.com links as answers, so the idea was that people look at the pics and let the guy decide which pair of shoes was better.
Apparently in Facebook Polls, you click on the answer to vote. And there's no unvote (you can vote for another choice, but you can't abstain after clicking). So people ended up clicking on the twitpic link thinking they'd see the image, and ended up accidentally voting on the poll. I fell for this, too. There were something like a couple thousand answers on that poll. I believe it's been removed now.
I figured I could do better with a more salient question, so I made one up myself. "Which pair of glasses look better on me?" I made the question have two twitpic links, which you can view here and here if you actually copy and paste them in. I figured people are naturally judgers, and something like helping someone choose glasses to wear is an easy task (plus you theoretically get to see pictures of faces, which people just love, consciously or subconsciously).
I started the poll late last night, which probably didn't help, but a few friends took the bait. I hope they forgive me as I did this for science the lulz! When I woke up this morning, there were currently 51 votes, from people I know, friends of friends, and even people two degrees out of my social network! I think it would be really interesting to see how this poll spreads through Facebook (assuming they don't shut it down first).
I guess now that this post is published, any scientific value is gone (since you could be reading from anywhere and vote for my poll non-virally). The main point is that when you design systems very rigidly (in Facebook's case, not letting people abstain from a poll, which believe it or not is a valid bit of information), interesting consequences pop up.
I'll keep checking the status of the poll and see if it actually blows up, whimpers and dies or gets taken down quickly.
Analysis Edit:
I think another reason that this poll is so effective is that it makes it seem that the person who voted is the originator of the poll. Check out the newsfeed formatting:

The voter's name is prominently displayed (though I blurred it) and the person who asked the question is nowhere to be seen.
Edit #1: The time is now about 12:40PM and the total number of voters has doubled to 99!
Edit #2: It's about 1:10PM and the number has doubled again to 201!
Edit #3: The time is around 1:24PM and there's 304 answers.
Edit #4: Alright, it's 1:35PM and there's 406 votes.
Edit #5: Wow. It's 1:41PM and there's 502 votes.
Edit #5: It's 1:48 and there are 621 votes.
Edit #6: I'm just going to simplify my updates now…
1:53PM – 716 votes
1:58PM – 811 votes
2:02PM – 904 votes
2:07PM – 1031 votes
2:16PM – 1282 votes
2:22PM – 1442 votes
2:27PM – 1619 votes
2:38PM – 2013 votes
2:46PM – 2393 votes
2:50pm – 2604 votes
2:54pm – 2811 votes
2:58pm – 3038 votes
3:04pm – 3408 votes
3:11pm – 3861 votes
3:14pm – 4142 votes
3:23pm – 4761 votes
3:39pm – 6169 votes
3:47pm – 6806 votes
3:51pm – 7198 votes
3:56pm – 7693 votes
4:00pm – 8010 votes
4:06pm – 8624 votes
4:10pm – 9038 votes
4:19pm – 10,013 votes!
4:28pm – 11,007 votes
4:37pm – 12,009 votes
4:46pm – 13,046 votes
4:53pm – 14,009 votes
5:04pm – 15,216 votes
5:09pm – 15,886 votes (dinnertime)
5:45pm – 19,764 votes
5:55pm – 20,722 votes
6:06pm – 21,829 votes
6:30pm – 24,104 votes
6:40pm – 25,013 votes
6:51pm – 26,001 votes
7:02pm – 27,014 votes
7:14pm – 28,013 votes
7:26pm – 29,001 votes
7:42pm – 30,373 votes
7:53pm – 31,124 votes
(mini break)
9:41pm – 38,332 votes
10:14pm – 40,175 votes
10:34pm – 41,360 votes
10:50pm – 42,232 votes
11:38pm – 44,690 votes
12:12am – 46,761 votes
12:51am – 47,677 votes
1:48am – 49,358 votes
Day 2
10:10am – 53,601 votes
10:31am – 53,812 votes
12:48pm – 55,418 votes
1:07pm – 55,598
1:36pm – 55,923
2:32pm – 56,470
4:41pm – 57,559
10:36pm – 59,078
1:51am – 59,426
EDIT: Facebook finally deleted the poll, with something like 60,000 votes last time I checked.