Kurt Elling and Ernie Watts at The Michigan Theater 04/16/09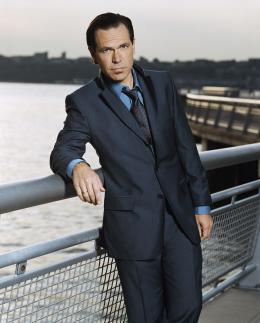 I saw Kurt Elling w/ Ernie Watts at the Michigan Theater last Thursday. The program was billed as "Dedicated to You," in which Kurt re-envisions songs from Coltrane/Hartman's ballad album. I really like this album, so I approached the concert with some enthusiasm and also some apprehension.
The instrumentation was kinda interesting. There was a combo as a base: Piano, Bass, Drums, Sax. Then there was a string quartet called ENRON or something (err, it was ETHEL) included in the instrumentation. This made the music seem a bit more fancy, but also more… orchestrated. I thought it took away from the jazziness of the performance. Like a real jazz performance will be a bit impromptu. The strings can't really improvise along with the rest of the band (at least not in 4 part harmony) so everything is a little more rigid.
Anyway, I think the set included all the songs on the aforementioned cd, but in different arrangements. Some were converted into non-ballads and I think one was played at ballad speed but in a double-time feel. Can't really remember everything because I wasn't taking notes. I do recall that I didn't really like the arrangement for "My One and Only Love." I thought it should've been given a real ballad treatment instead of the uptempo version that wasn't very long.
I mean, the concert wasn't bad or anything. Not at all. Elling was a pretty good singer. Even though he kind of overdid the loungey moving away from the mic and then getting closer to it to change dynamics thing. You know what I mean? He also had some funny movements. He has a good voice, but he also seemed to mess around with the vocals a little too much. That's okay for people who are familiar with the subject matter but for people hearing a standard ballad for the first time it makes it harder to listen to.
I wonder if listening to the Lincoln Center Jazz Orchestra (a definitely old-school group) is making me kind of snotty. LCJO gets criticized for not being more modern. But I like the old school sound! There were times when the Elling group really got in the groove (or as we jazz musicians like to call it, "in the pocket"), which was great. I really like the straightahead jazz sound. I guess I really shouldn't complain though. I was happy with the concert for the most part.
Towards the end Elling brought out some old jazz singer dude. I didn't know who he was at the time but I just looked it up and it was Jon Hendricks. He came on for the last two songs and scatted. The first was Bessie's Blues, a Coltrane tune that wasn't on the ballad cd. I think this was one of the times the group really jelled. Then they played Bye Bye Blackbird. Kurt sang the Miles Davis solo of it using some made up lyrics. It was kind of cool because I think a lot of people recognized that it was the Miles Davis solo and appreciated it. It's also kind of cool because it requires secret jazz knowledge to pick up on it!!! Oh, and after I looked it up I learned that Jon Hendricks actually did this in 1986. So I guess Kurt was doing a tribute to Jon, while Jon was standing there.
During Bye Bye Blackbird, Jon was taking a solo. It looked like he was taking a longer solo than everyone had anticipated, so I think Kurt was trying to figure out how to signal to him that the song needed to end. I mean, they were probably cool having him take the solo. But he most likely didn't do a rehearsal with the guys. So it was pretty entertaining watching the guys figuring out how to end the song while the guy was taking a long ass solo. That's how jazz people roll.
The closers were definitely the right choice because they had high crowd-pleasing potential (blues and a well known standard). I think everyone left happy, including me. While I think the source material for the concert is timeless, and perhaps shouldn't be messed with, they did an okay job and the concert as a standalone event was good. It's kind of hard to please and live up to standards when you leave yourself open to comparison with Johnny Hartman and John Coltrane…
ALSO: After doing even more research (lookin' on Youtube) it seems as though Kurt sang with Bob Mintzer, one of my favorite mustached modern composers. Though apparently he didn't sing "My Foolish Heart" on the album which I really, really like, he did sing it live with Bob. Neat-o.