Jonathan Coulton Show in Ann Arbor (The Ark) 3/6/09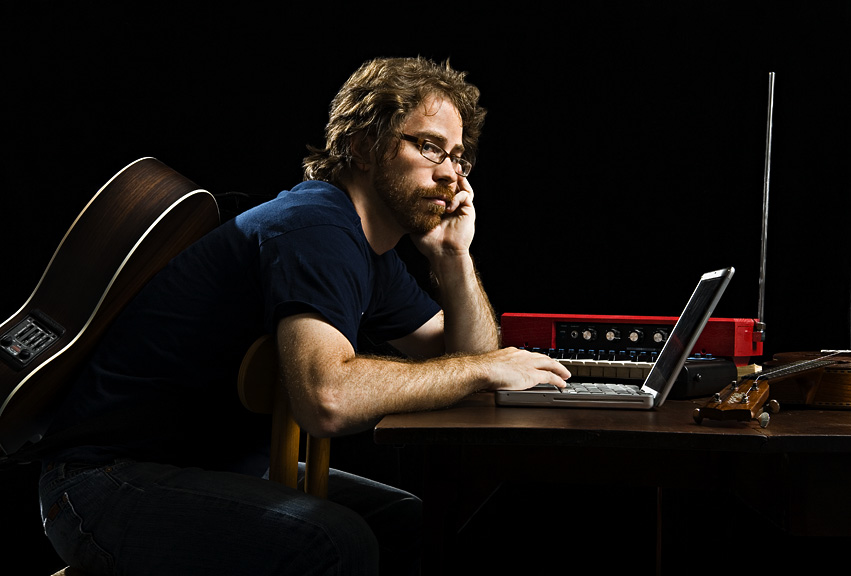 I have written about Jonathan Coulton in the past. Last Friday, I got a chance to actually see him perform live, in front of my own eyes!
First, however, the opening band had to play for a while. The band in question was "Paul and Storm," which I like to call, "Paul and the Storm." But apparently Storm is a human being. And it's a guy, not the female X-Man (oxymoron?) who controls lightning. Their first song was about how they're the opening band, and no one paid to hear them and we hope that they leave soon so Jonathan Coulton could get on stage. At least they have a good sense of humor about it! Their songs were pretty interesting for the most part. They had a way of choreographing things (Paul was always doing something with his hands) that kept it interesting and their harmonies were pretty sweet. They also gave out random prizes like an uncomfortably small Batman mask and monkey keychain that lit up and made monkey noises.
Before the show, Jonathan Coulton
asked for requests from the audience via The Twitter. I like calling it "The Twitter." Don't judge me for that. Anyway, I requested "Octopus" and the song he plays on the John Hodgman audio book. I figured he probably wouldn't play the Hodgman one since Hodgman wasn't there to read his part. But I really like that song. Especially the part where he whispers "Dungeons & Dragons, monsters and magical spells!" I didn't request the more popular ones because I figured he has to play First of May and Skullcrusher Mountain and Code Monkey.
Oh, I should mention I went with my friend Kathleen. We both noticed that the entire Ark was a nerd herd. Like seriously, all kinds of nerds were there. And it was okay to show your nerdiness! I think this is probably how it feels to go to a comic book or Star Trek convention. There were lots of references to nerd stuff like Star Trek II: The Wrath of Khan (Botany Bay?) and Hitchhiker's Guide.
Also, it was pretty apparent that the crowd really knew Coulton's work. Because at the funny parts, no one really laughed (Like during First of May, for example) except maybe as a polite gesture, and during Skullcrusher Mountain, JoCo let the audience sing the chorus once. And it was loud and perfect. This sort of scared both me and my compatriot. Also, everyone knew what to do for the audience participation in "Re: Your Brains." JoCo pretty much owned this crowd. And the crowd was generous to JoCo, showering him with gifts like a Starbucks gift card, a half pony/monkey monster (to please him), a toy monkey with banana candy inside of its transparent stomach and for some reason they had him sign a cake (I dunno if he got any of it).
Overall the show was good times. Coulton sings in pretty much the same voice as he does in his recordings. So I can safely say that he's not being overproduced or something like a boy band. Though it should be noted that he cannot sing harmonies with himself live. That's what Paul and the Storm are for. At one point in the concert I realized just how weird his songs were, and that the audience was just as weird. The moment was when stated, matter-of-factly: "This is a song about a giant squid who hates himself." And then he played the song!
Coulton did the whole "this is the last song" and then came back as an encore, and noted how cheesy it is to do that. But it's sort of necessary. Unfortunately he only played two songs for his encore and didn't come back for an encore #2. But you gotta leave the audience wanting more. I wanted to hear "Tom Cruise Crazy." I guess it'll have to wait for next time.