A Visit To The Tokyo Hardcore Pop Culture Shoppe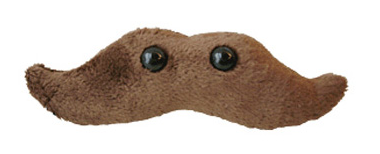 A few days ago I had some lunch with a colleague of mine in Albuquerque at El Patio. It was pretty good except for the fact that I ordered a blue corn spinach enchilada and I got a normal enchilada, but I only realized it after I ate about 90% of it because I was hungry for green chile.
Anyway, after the lunch we went to scope out the area. The "Brick Light District," as it's called, is fairly new. It wasn't there when I went to UNM. I saw this store that had a sign: "Tokyo Hardcore Pop Culture Shoppe." We went in.
The first thing I noticed was a Domo-kun plushie. Pretty cool. Then I noticed some other random Japanese culture stuff. Hello Kitty stuff, birthday candles that spelled out "omedetou," vinyl toys, etc. It kind of reminded me of Wizzywig, except with less emphasis on video game and anime pop culture and more on fashion and toy culture.
I talked to the store clerk girl for a little bit about the store. Apparently there are less people that come in who are "our age" and more really young people and fairly old people. Interesting. She said they opened maybe a few months ago and that they're getting cool new items in regularly.
I'm pretty happy that a store like this exists in my (former) town. I think it adds a lot to the vibe that Albuquerque is one of those culturally interesting cities. I think I read somewhere that we're somewhere up there with Austin and Seattle, etc. So I hope the store does well. Also, the girl at the counter was really cute, in that Suicide Girls kind of way.