Song Currently Stuck In My Head: Fame!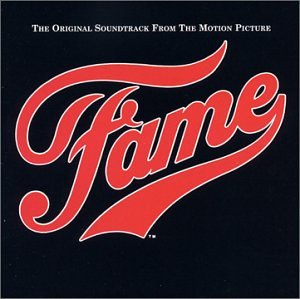 So it's partly due to Karaoke Revolution Party having the song, and one of my friends' 80s pictures, but I totally have the song Fame stuck in my head now. During Christmas time, I got the aforementioned Karaoke Revolution game. My sister did pretty well singing it; I'm a little too young to remember the actual show.
I did try it later on though. It's pretty darn catchy and soulful. Which means I'm pretty bad at singing it. I guess I just need some practice. Here's the lyrics in case you found this page searching for them:
Baby look at me
And tell me what you see
You ain't seen the best of me yet
Give me time I'll make you forget the rest

I got more in me
And you can set it free
I can catch the moon in my hands
Don't you know who I am?
Remember my name

(Chorus)
Fame

I'm gonna live forever
I'm gonna learn how to fly
High

I feel it coming together
People will see me and cry
Fame

I'm gonna make it to heaven
Light up the sky like a flame
Fame

I'm gonna live forever
Baby remember my name

Remember Remember Remember Remember
Remember Remember Remember Remember

Baby hold me tight
Cause you can make it right
You can shoot me straight to the top
Give me love and take all I've got to give

Baby I'll be tough
Too much is not enough
I'll grab your heart til it breaks
Ooo I got what it takes

(Chorus again, like a few times)
Sometimes the lyric is listed as "People will see me and die," but that sounds kind of wrong to me. Like can someone be so famous that it causes death? I hope not.